PAY WITH CONTACT FORM 7
As a WordPress development agency we've worked on many WordPress projects like simple brochure sites, enterprise level websites where we built new plugins, customized existing sites, integrating web services and integrating third party applications.

One of the challenges we've observed for small business owners and websites is a simple way to collect donations or some purchase items. For these customers having a WooCommerce is an overkill. To help with this challenge in mind, cmsMinds created an add-on to Contact Form 7 plugin.

Contact Form 7 plugin is one of the most downloaded and commonly used plugins for Contact Us pages. This will help save costs for building the website.
Each contact form can have its own PayPal settings. When a contact form is integrated with PayPal, and the user submits the form it will send an email also & it will auto redirect to PayPal.
If you have any problems, questions, or issues about this PayPal plugins then please create a support request and we will get back to you as quickly as possible.
The administrator can see all the forms data listing with PayPal transaction details.
Note: This PayPal plugin works with both the old and new Contact Form 7 interface. A PayPal account is required to use this plugin.
Contact Form 7 – PayPal Integration Add-on Features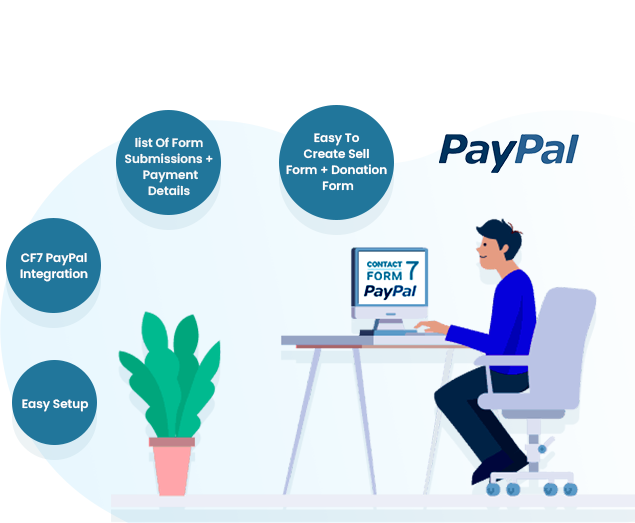 Receive quick payment from a donor or users.
Add-on can be simply set up with very little information settings.
Back-end uses Contact Form 7 to monitor the submissions, which can also track payments received.
Currently, we've integrated with PayPal. Stay tuned for future payment gateways to be integrated.
Allows settings where a client can set PayPal mode, currency, language.
Set item name, price on a contact form.
The site owner can also create a form like a sell item with 'fixed price' or create a form like 'donation' where a user can add an amount for donation.
Add a successful payment URL.
Add a cancel payment URL.
The plugin will save & list all the data of contact form 7 and also save & list PayPal payment details.